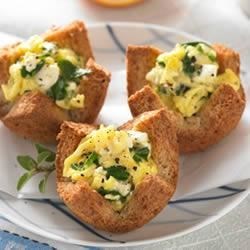 Ingredients

6 slices Roman Meal Bread

4 eggs, beaten

1/2 cup baby spinach leaves, chopped

1/4 cup feta cheese, crumbled

1/4 teaspoon fresh oregano leaves, chopped

salt and pepper, to taste


PREP 5 mins
COOK 20 mins
READY IN 25 mins

Directions

Preheat oven to 350 F.

Trim crusts from bread. Press gently into 6 muffin cups forming cups. Bake 20 minutes until golden brown; remove from oven.

Spray medium skillet with nonstick cooking spray; heat over medium heat. Add eggs, spinach, cheese, oregano and salt and pepper. Cook, stirring occasionally, until desired degree of doneness.

Fill bread cups with cooked egg and cheese mixture, dividing ingredients evenly. Top with oregano sprigs if desired.